CMK version: 2.0.0p17 (CRE)
OS version: Ubuntu 20.04 LTS
Error message: CRIT: The current livestatus usage is 99.41% (!!), 20 of 20 connections used (!!), You have a connection overflow rate of 0.00/s (!!)
We are running a standalone CRE instance (just master, no multiside) and the "configuration analysis" tells us, that our livestatus is at its limit.
The information text does say:
"Livestatus is used by several components, for example the GUI, to gather information about the monitored objects from the monitoring core. It is very important for the overall performance of the monitoring system that livestatus is a reliable and performant.
There should always be enough free livestatus slots to serve new incoming queries.
You should never reach a livestatus usage of 100% for a longer time. Consider increasing number of parallel livestatus connections or track down the clients to check whether or not you can reduce the usage somehow."
But it does not give a hint, where we can increase the number of parallel livestatus connections.
The online docs https://docs.checkmk.com/latest/en/livestatus.html does not inform, where these configuraitions are done.
Searching "livestatus" in the global settings seems also not helping: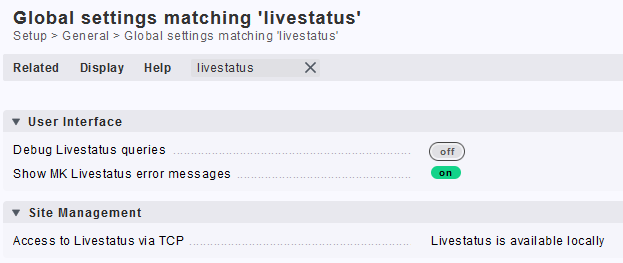 Does anybody know, what to do to increase the number of connections for livestatus?
Regards,
Christoph