Hi,
I wrote an plugin to enumerate unifi devices per unifi-api.
Everything is looking good even with interfaces over piggyback.
When I dont use register.check_plugin and instead use register.agent_section with parsed_section_name="interfaces" then all interfaces show up with correct Metric translation and dual in/out graphs ans performeter.
if I change in the same way as the vsphere plugin does.
register.check_plugin(
    name='unifi_network_ports_if',
    sections=["unifi_network_ports"],
    service_name='Interface %s',
    discovery_ruleset_name="inventory_if_rules",
    discovery_ruleset_type=register.RuleSetType.ALL,
    discovery_default_parameters=dict(interfaces.DISCOVERY_DEFAULT_PARAMETERS),
    discovery_function=discovery_unifi_network_port_if,
    check_ruleset_name="if",
    check_default_parameters=interfaces.CHECK_DEFAULT_PARAMETERS,
    check_function=check_unifi_network_port_if,
)


then the interfaces still shows up but seems different from before.
Services will be found as new and old as vanished.
I want the check_function to add additional Metrics for PoE and Satisfaction
Any Help?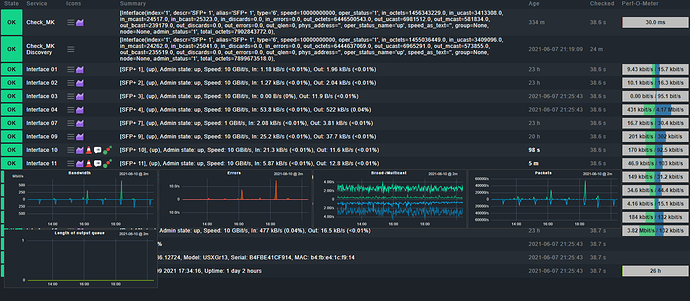 with parsed_section_name="interfaces"