Hi Checkmk Community!
From our last forum update, we have added the Canned Replies plugin, which saves users the hassle of typing commonly written texts in the forum. Thanks for the suggestion @tosch!
How to Use the Plugin
Step 1
When creating a new post or replying to a post, click the gear icon on the text editor. There you'll see 'Canned Replies'.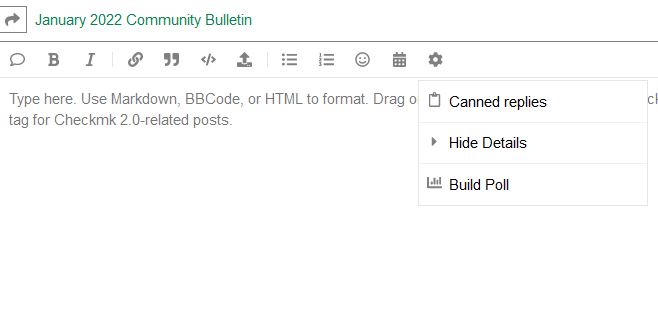 Step 2
Upon clicking 'Canned Replies', the list of available canned replies that you can use will appear on the right side. Simply click on the
icon and it will add the text to your editor.

How to Add More Canned Replies
As of now, only an admin can add a new canned reply, so feel free to reply to this thread with your suggestions!