We are monitoring our Palo Alto VM-200 node with SNMP v3 in Check MK 2.0.0p17. There's only one CPU utilization check visible in Check MK, while there are actually two OID's in the snmpwalk which indicates CPU utilization:
OID 1.3.6.1.2.1.25.3.3.1.2.1 returns an integer of the Management CPU only
OID 1.3.6.1.2.1.25.3.3.1.2.2 returns an integer of the Data Plane CPU only
There's no OID which averages both values
We are very interested in monitoring only the Data Plane CPU utilization, or at least separate both, but looking at the live values in Check MK, the check seems to somehow average both values. How can we have the CPU check look at a specific OID instead of averaging multiple values? I tried editing some CPU parameters, but that didn't seem to make a difference: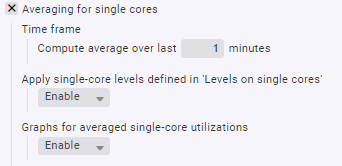 Could someone please help us out?!
Thanks in advance!
Regards,
Kevin