Hi there
Today I tried to setup distributed monitoring according to the documentation at Distributed monitoring - Scaling and distributing Checkmk
I created a second site on the same server. I was able to create the distributed monitoring connection. See screenshot.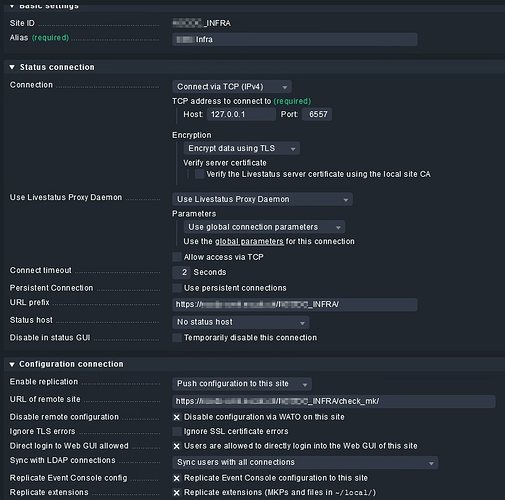 I successfully logged into the new site and the connection is online.
I then wanted to "move" one of my hosts to this new site. In the host properties I changed the "Monitored on site" setting and set it to the new site. I then did a full scan of the services and activated all the changes.
In the menu Setup → Hosts → → Host I can still access this host. I see that it is now being monitored on the new site.
But when searching via quicksearch for this new host, I cannot find it anymore.
I also opened the view Monitor → Overview → All hosts and tried searching for this host with CTRL+F but it is not in the list.
Should I not be able to find hosts that are monitored on other sites in the quicksearch?
CMK version: 2.0.0p18 (CEE)
OS version: CentOS Linux release 7.9.2009 (Core)
Error message: none