Dear Checkmk community,
Last conference, you might remember we talked about having experiments to improve collaborating with you as our user community. Part of the plan is to establish a localization program to make Checkmk available in other languages, where the community will have the chance to contribute.
And the platform is now live! You may visit translate.checkmk.com to create an account.
It runs on Weblate, an open source localization platform also used by some open source projects (e.g. Fedora, LibreOffice). Currently, this is only for translating the Checkmk software (all editions). It doesn't include the website and documentation.
Some of our community members tested it and I would like to thank everyone for their feedback that led us here!
Some Highlights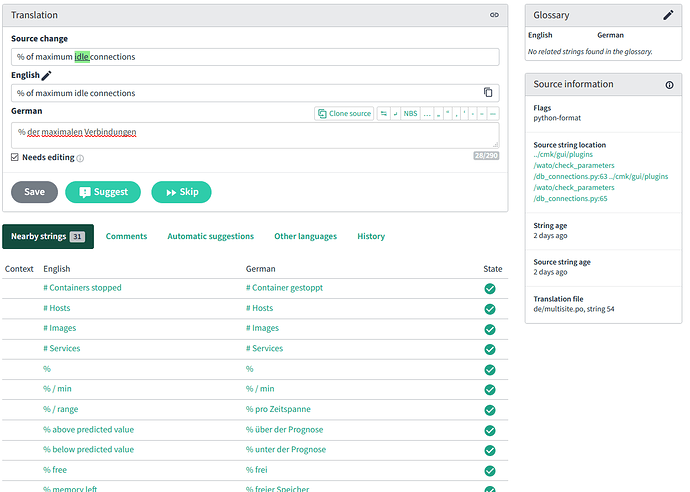 Simple UI, no need to manually edit .po files on the GitHub repository to add translations
Context information like source string location can give an idea what the string is about/where it will appear.
Glossary, nearby strings and automatic suggestions can be used to give a hint on how a string should be translated
Comments feature where we can discuss certain strings and report errors in the source string.
How to Get Started
Please refer to this post for the guide.
Future Plans
As we get more used to this platform, we will continue improving how we do localization. It can be adding screenshots and context information or having a translation style guide. For any comments, questions and suggestions, please let me know!
Hope you can try it out!
Cheers,
Faye